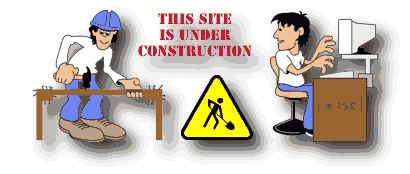 Welcome to the newest cricket site on the web (well it's probably the newest, for a second, or two).

Our job is to expose the dirty, dark underside of cricket. To plum the depths, to root out the lies, to expose the corruption and to destroy innocent lives everywhere (and, in time, become rich and corpulent almost beyond our wildest nightmares).

We are CRICKETWATCH!!!

Be afraid, be so very afraid.

All photos, statistics and articles used without kind permission of the copyright holders.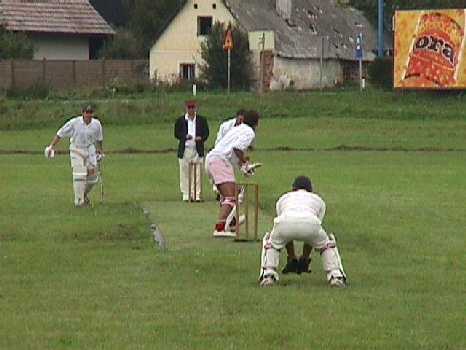 Action picture from the Slovenia v Croatia match at Zagreb, 1999 (Sir Francis bowling his zooter)
European Cricket Council

Tomislav Petric, Croatian Information Centre - Zagreb
Image: © European Cricket Council 1999 (and stolen by CricketWatch)
Slovenia
A spectacular backdrop at Ljubljana CC
Currently cricket is played only near Ljubljana.
ECC provided a new artificial mat for the Ljubljana CC which has recently installed a concrete pitch.
As you know, most of us rely on our cricket information from journalists and commentators and (shudder!!!) columnists. With net access we can all browsaway around online newspapers to read the various reports within. After years of reading australian cricket journalist in newspapers and cricket magazines I found myself more than dissatisfied with what I read. After getting on the net I started to read and bookmark online newspapers all around the world. And to my surprise and chagrin I discovered the standard was generally poor.
Sensationalism to sell newspapers rather than honest, balanced analysis is the order of the day. Laziness, repetition, outright lies. As well as just using wire services. And the worse crime is to lie. here we will be expose these liars. There biased, inbalanced and sometimes racist drivel will be highlited. Of course we will praise those who deserve it (a rarer occurance unfortunately). Hyperlinks (where possible) will allow you to go straight to the article to read it for yourself (just in case you don't believe us - I doubt we'll have to make anything up - but we will anyway)
There are journalists who continually make a fool of themselves with there writing. They will be 'honoured'. In honour of Michael Atherton we will have our Buffoon of the week.
We will review cricket books. We don't receive free review copies so these will come from our own extensive (and probably out-of-date) collections. As such, we will be reasonably honest without fear or favour. Remuneration, or free review copies will temper our vitriol somewhat. Of course critiques are generally a matter of taste so remember that.
We will also review other cricket sites of all kinds (there's a hell of a lot of them) Cricinfo is still the best, by the way.
We will campaign for (what we consider to be) improvements in cricket.
There will be a weekly editorial on an important aspect of the game. Current, or otherwise.
Naturally we will talk about players. We will be scathing, unfair, inaccurate and plain wrong but they're used to that. We have our favourites and they can do know wrong. 6 years without a score in double figures will not bother us and we will fight and argument for them to be dropped from the team.
You may email us here: SF@cricketwatch.org
Hero of the Week:
Star of the Week:
Buffoon of the Week:
A little word about your Cricketwatch board
Sir Francis of Putney: former captain, coach, vice-captain, selector, administrator, secretary, treasurer and scorer for the Slovenian national side. Born 1960. Knighted in 1993 for services to cricket due to retiring from cricket and no longer providing a hindrance to the national cause. A grateful monarch, on advisement from the Prime Minister and Chief of selectors kindly bestowed upon me an honorary knighthood (provided I undertook to never, ever play the game of cricket again in any form, whether test, first class, one day, grade, shires, juniors, schools or back yard cricket. Not even to coach my nephews).
King George I of Kensington: (to be added when he deigns)
Lord Robert of Koorala: (also to be added)
Interested in a weekly quiz question about cricket? Let's have a try and see how many of our readers are interested. No prizes, I'm afraid, although the first few correct replies will get honourable mention.
QUESTION: Against which country did Zimbabwe play its first-ever Test match in the 1992/93 season?

Answers to Daphne, please!

CricketWatch is hosted by (classified) and supported by the Ruling Elite. The views and opinions expressed here however are those of the authors alone, and in no way reflect the official views of anyone at all, even us.
All material here is copyright Cricketwatch.orgunless otherwise stated (if we remember, or care), and cannot be reproduced without the explicit permission of these bodies. OK ?
Oh what the hey! Go ahead and reproduce to your hearts content.
----------------------------------------------------------------------------------------------------------------------------------------------------------
This little caption for a photo occured in the Age: Tuesday 12 December 2000 The real Lara stands up


Enigmatic: Brian Lara was back to his best with an innings of 231, contrasting with his lack of form on the tour to date. By MARK FULLER. Of course Brian Lara had already scored 2 hundreds on tour but every single journailist in the Fairfax, News Ltd. and Wire Services had all conveniently forgotten that fact. Half way through the 3rd test he had scored 4 tons on tour. Out of form ?
In 2nd place was Mr. George Mendis writing in the 11/12/00 issue of the Daily News of Sri lanka where he berates Steve Waugh for daring to call Muralitharan's action illegal in his book, "Never Satisfied". I've not read the book so I don't know if this claim is true. I would have though if that it was true the cricket world would be up in arms but I'll investigate. I suspect though, that it is another blatant, racist diatribe from this newspaper well known for it's hatred for all things Australian and, in particular, umpire Darrell Hair. See: http://www.lanka.net/lakehouse/2000/12/11/spo06.html
THE THIRD TEST AT ADELAIDE DECEMBER 2000 - AUSTRALIA vs WEST INDIES
Well I suggested to my editorial board that it was insane to bring young Marlon (Manuel) Samuels over whilst Carl Hooper actually lives in Adelaide. If he was so good why wasn't he here already, also it seems he's played just six first class matches. After day 2 it seems I may have been wrong.
-----------------------------------
A GLOSSARY OF TERMS, PEOPLE AND JOURNALISTS (to be added later)
Buffoon: Changes weekly, sometimes daily in honour of the pakistani journalist, Ashgar Ali, so dubbed by former England captain, Michael Atherton.
Crash: Robert Craddock, one of the many senior cricket writers out of the News Ltd. stable. often writes his articles as if he is actually in the dressing room, on the field, in the bedroom, etc. of certain test players. Trying to give the impression he knows exactly what the player is thinking because "he was there"!!!! This is, of course, Balderdash! He's a poor (completely destitute) man's Neville Cardus. So hebasically puts his opinions into the players mouths. This is baldfaced lying. Not analysis. Not reportage. Not honest.
Consequently he is always vying with the next person (Peter Roebuck) for Buffoon of the Week. He usually wins easily.
Roefuck: Well Peter Roebuck! Former captain of Somerset. Lost 2 games against Holland in 1989 as an England captain and highly respected journalist (at least we assume he's highly respected as he has written for the Age in Melbourne, Sydney Morning Herald, the Telegraph (uk), the London Times and the Cricketer and probably elsewhere). However he has very strange ideas on certain cricket issues. He gets quite apoplectic over alleged australian shenanigans. His hatred for australian umpires, especially Darrell Hair borders on racist. (and it probably is). There's a lovely story where he was haranguing Graham Thorpe whilst commentating and Thorpe marched up to the commentary box to 'discuss' it with him. Roebuck was not seen in afavourable light over that incident.
A recent example was provided in the Boxing Day test in Melbourne. Because he personally doesn't like the name of the Great Southern Stand he has renamed it the "Large" Southern Stand. Ladies and gentlemen, this man is an adult. He is NOT a 14 year old. He just acts like one. Large Southern Stand, indeed!
Occasionally he writes something interesting and worthwhile. This is rare.
A strange man.
The above 2 writers are expected to feature heavily in CricketWatch (despite the shock, last second winner of the Year 2000's Buffoon of the Year (see down) Buffoon of the Year
Chucker: Guess ?
Fatboy: (One of SW Warne's many nicknames and CricketWatch's preferred option - I should talk!)
Forrest Gump: Some years ago there was a banner at a test match that stated "Hullo, my name is Ian Chappell, people call me Forrest Gump"
So Chappelli is now stuck with that nick name forever. Loves to make a point during commentary and then harp on it for at least 2 sessions, alternatively he will make what he coniders a joke. In all the years I've been listening to the Channel 9 commentary I've yet to find him funny. And my humour tastes are quite eclectic. Everything from the Goons, to Monty Python to Bottom, From Blackadder to Young Ones, from Round the Horne to Kenney Everett, as well as Bill Cosby to Lenny Bruce. These people are funny. Forrest isn't!
The Marshinot Line: The arbitrary line between a good player and a mediocre player. ie. Geoff Marsh's test average. Consequently, any batsman who averages above 33 is a an ok to good to great player. Alternatively, any bowler who averages above 33 is bad to mediocre.
Another age defined look at players is to rate them by their age (we haven't come up for a name for this yet - Maybe the Don Line). Thus, the Don who is 92 but hist test average is 99.94, so he can still play at test level. However someone like Greg Chappell, who is 52 and averaged 54 has only 2 years left. We haven't got a method for bowlers yet. or wicket keepers.
MEW: Mark Waugh. A great player who has been the subject of vitriolic attacks for 2 years now. And they won't rest until he is out of the australian team.
Mr. Big: We can't say too much about this but we are fairly certain it's the Don. And some of his lieutenants are Richie, Forrest, Tubby and SR Waugh. Fomer captains all. If we feel confident enough, we shall expose this sordid tale. But not right now!
YNK: You Never Know. Justin Langer's new name. he repeated it over and over like a mantra during the great partnership of 238 with Adam Gilchrist during the 2nd test against Pakistan in Hobart, November 1999. It got to the stage where Gilchrist was trying to run Langer out because he just couldn't stand it any more. Eventually, during an add break he went down to Langer's end and repeatedly hit in in the head with his bat, splitting it in the process. Soon after, in a dazed and bloody state, Langer was dismissed popping up a catch to Inzamam. he wandered off the pitch repeating, "You Never Know You Never Know, You Never Know".
To this day those are the only words he ever utters.
Shhhhwebb!: Shoaib Akhtar. When Australia's mate Ray martin tried his hand at commentating in the World Cup he liked to pronounce Shoaib's name in this fashion.
Anyway, there will be dozens more of the added in due course.
NB: Most stats come from cricinfo.org (thanks) not with any permission, of course but as a courtest we will always try to attribute what we steal. we will expose cricket sites but rest assured cricinfo is by far the best.
-----------------------------------
Try out these Recommended Links: (to be added later)
Sir Francis' Bookmarks: (ditto - I lost all my bookmarks in a tragic software installation accident several weeks ago and my brother couldn't find them for me. back to square one I guess)
----------------------------------
To reach the Cricket Watch Email: SirF@cricketwatch.org
For advertising, email ???? at: advert@cricketwatch.org
For submitting press releases etc, e-mail Nev Cardus at: SirF@cricketwatch.org
For Comments and information on website e-mail:Valarie (though she is the weak link in our chain)
You are the 3rd new person to visit this site since May 8th, 1976.
Our Search Engine is Thomas
Cover Stories | Local | Caribbean | Sports | Business | Life | Technology | Editorial | Classifieds | Archives | Todays Stories | Subscriptions | NOPS | FRAMES Version
CricketWatch Online magazine featuring news sports features business money technology culture art music life photos politics environment tourism humour conspiracy knowledge lies aliens nudity (female) niceness health me you everyone else & The Don. Copyright © 2000 Fabian Society
Site Designed and developed by Robert, Francis and a host of others too numerous and litigious to mention.


(Back to Top)
---------------------------------
10/12/2000 - Am I the only person to have a problem with Geoff Marsh's appointment as an "advisor" to the BCCI. Allegedly to help Indian cricket just months before the Australian team is due to tour India for a 3 test series.
Hullloooo!!! Anybody there ? Bloody hell! Isn't it obvious what's going on? This is just another ploy by Australia's genius captain Steve Waugh to undermine a future opponent. The man thinks several series ahead. I wouldn't be surprised if all the australian's in county cricket are simply there to help destabilise the poms prior to 2001 Ashes series.
You have to watch Steve Waugh. He has the greatest mind since the Don. Winning is all. And winning by crushing your opponent is everything. Well known for his writing and literary and cultural tastes, despite the "Ugly Australian" image he offers to the world. Captain Red Ink, King Sledger, etc. In reality he is a rennaisance man. It wouldn't surprise me when he read 1984 he understood exactly what O'Brien was trying to do and is now doing it to the cricket world.
"Imagine a Gray-Nicholls slamming into a human face forever."
Of course this is not meant as a criticism, just an observation.
-----------------------------
here s a lovely little piece been doing the rounds of the world's newspapers, I mined this from the http://www.stabroeknews.com/ from Guyana by the eminent pilot and former test fast bolwer Colin Croft. he was discussing the Sarwan shoving incident during the 3rd test between Australia and the West Indies in Adelaide.
21 December 2000 Time to dispense with ancient match referees by Colin Croft
The inconsistencies of the ICC match referees interpretations of cricket came into immediate vogue on the 4th morning, when the appointed man at the Adelaide Oval, Alan Smith, the former Warwick-shire and England all-rounder, showed how weak and poor an adjudicator he is, perhaps how weak and poor the ICC is.
It is no wonder that the entire international cricket scene has been in such a screwed up shambles.
Lest you were on Mars and did not know, here is what transpired. Leg-spinner Stuart MacGill, on being given out caught behind; the decision is still being debated; by his Australian counterpart, umpire Steve Davis, very visibly; there are eye witnesses who could confirm this, as Channel 9's television cameras did; elbowed the West Indies 12th man, Ramnaresh Sarwan, purposefully out of the way. The two "collided" on the steps leading to the dressing rooms as Sarwan was attempting to deliver water to his team.
The actual incident was so blatant, unprofessional, indeed loutish, that Sarwan looked back sharply, in great incredulity and shock, at the actual contact to his person. Even he, as sedate and circumspect a young man that he is, could not understand this uncalled for, arrogant attack.
He goes on to say, Can you imagine that the situation was reversed, but that the West Indian involved would have been, for example, Wavell Hinds or perhaps Sherwin Campbell, not to even mention Brian Lara? God, by now, the wire in the said Mars would have been humming.
Rest assured the "punishment"would not have been the same!!
Well, unless Colin had access to different Channel 9 cameras to the rest of Australia he talking rubbish. Certainly MacGill lifted his bat out of the way which indicates he saw Sarwan coming but he did not deviate a millimetre from the direction he was going. And neither did Sarwan. Which means they both are at fault for being childish (or macho as they might have thought it. "I ain't getting outta the way, pal!"). MacGill has said there was no intent which means Colin is calling him a liar. I hope Colin has saved up his pennies from his cricket career (lucky he gets to write the same article for 300 different newspapers).
The thing that 'struck' me most about this essay was the bit about the elbowing. It seems Colin has a very, (to quote that great Australian philosopher, Peter Garrett) short memory. I can remember a test match back in, oh about 1980 in New Zealand (Dunedin, I think. Was the umpire Goodall ? I'll have to do a bit of research. Though Colin is welcome to email us here). I'd imagine Colin might remember it too. it was the only series the West Indies lost in their great run. A certain large west indian fast bowler elbowed a very small NZ umpire (about 2'6") in his delivery stride. The reason given at the time was that the umpire was cheating so blatantly he'd make a Bajan umpire blush.
The ICC did nothing. Colin escaped censure. And now we have cricketers (allegedly) knocking each other over.
Well Colin? I wonder who started that trend. What a fucking hypocrite you are. You should be ashamed of yourself. You were a former test cricketer. And a good one too:

TESTS
(career)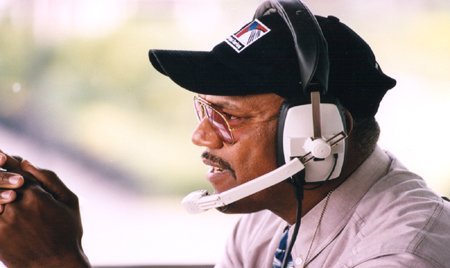 batting
M I NO Runs HS Ave 100 50 Ct St
27 37 22 158 33 10.53 - - 8 -
bowling
O M R W Ave Best 5 10 SR Econ
1027.3 211 2913 125 23.30 8-29 3 - 49.3 2.83
(from Cricinfo)
Yes you should be ashamed of yourself. Writing crap and lies like a real journalist. YOU SHOULD KNOW BETTER!
What colour is your pot Mr. Buffoon of the Year ? Yes, Congratulations Colin Croft! You win CricketWatch's inaugural Buffoon of the Year Award. The Ashgar Ali Trophy. (I know, I know. Most people would have chosen Hansie but that was the easy option).
--------------------
Neil Harvey & Ken Barrington to be exposed SOON!!!
And the true story of AW Greig & KB Packer - maybe. We may be shut down, or offered money to go away. We will happily negotiate the latter.
--------------------
Birthdays - January 1, 2001. On this day
Editorial for 1 January 2001. NEUTRAL UMPIRES
Some people think we need 3 neutral umpires for each test. The reason being that the taint of cheating is removed. Maybe, but what we really need is competent umpires, rather than neutral umpires. The acknowledged best in the business are David Shepherd of England, Srinivas Venkataraghavan of India and Steve Bucknor from Jamaica, with a couple of others who are reasonable. And in recent year Venkat and Bucknor have deteriorated. While Shep only has a year or two to go.
It seems to me that there is a dearth of quality umpiring and to rob local umpires of ANY chance to ever officiate in their own country will completely destroy umpiring ranks. I remember reading many time umpires telling of the thrill of their first test in thie own country. take this away and you may take away the main reason people try to make it to the top in umpiring. I hope I'm wrong.
One answer could be to encourage former test players to put on the white coat. Unfortunately Venkat and peter Willey make this idea a little shaky.
Still, it may be the best option if we must change. I still prefer one home umpire and hope we stick to it. But really, an improvement in umpiring standards is essential.
We could pay these people a large some of money to encourage them.
Supposedly the english system provides the best umpires simply because they do it day in, day out for 7 months of the year. Now there are a lot of mediocre cricketers in County Cricket (subject of a future editorial) maybe some of the less mediocre could see a meal ticket with a high wage job as an umpire.
I don't know. It's a tough one to fix. But I do feel it needs fixing.
Write to us if you think you've got a good idea. we'll pass it on to the relevant bodies. And just maybe we can help to improve test cricket. You Never Know!
Sir Francis date stamp: 1/1/01 (happy new millenium to those using the gregorian calander)
By the way, this page seems to look best in netscape.
---------------------------------------------------------------------
Editorial Week 1, January 2001
So Australia have won their 15th game in a row (good test match by the way. The West Indies have fought hard the last three games. One can only imagine what might have happened if Curtly, Shivnarine and Carl had played all 5 tests) and Australia is getting more criticism than when we were being slaughtered by pathertic english teams in the early 80's.
What's going on ??!!?? It's not the Tall-Poppy Syndrome because it is universal. Everyone is saying it doesn't count because there is no oppositon!
A quick study of ANY sport where there is one dominant team will reveal that ALL the oppoition is poor. For goodness sake, it goes hand in hand. After all how would one team dominate if there were other good teams. Bloody hell! That's so obvious that it amazes me it's been ignored. Of course buffoons have to seel newspapers but people like Neil Harvey and other former cricketers should no better. The 1948 side beat a very poor, war-ravaged England team. Big Deal! Same for the 1921 side. And Lloyd's team appeared to have no opposition (save for NZ umpires), though they were so dominant for so long they are entitled to being regarded as the best team of all time.
However, Waugh's team is damn good. And if we can take Lee, McGrath, Gillespie & Fleming to England it's unlikely to be a contest.
An open letter to Glen McGrath
Apparently Glen McGrath is annoyed at certain people's attitude towards the australian team's and (in particular) Glen McGrath's behaviour as bad winners. In the Sunday telegraph (McGrath: Stop trying to bring us down 7/1/01 by Cameron Bell) Here are selected bits from the article:

MAN of the Series Glenn McGrath said the Australian players were annoyed at criticism of their aggressive nature ... and claimed nothing needed to be toned down.
"As far as I'm concerned there's a small percentage of people out there trying to look at ways to bring us down," McGrath said.
"I guess it's the tall poppy syndrome and it's disappointing that you have your own countrymen who would rather bag us for something than get behind us.
"As far as I'm concerned this series was one of the better ones in terms of the lack of sledging and heated moments we've played in.
"We have proved ourselves to be one of the best sides in history but 1 or 2 per cent of people just aren't happy with that."
(Only 1 or 2 percent Glen ??? Obviously you've done a survey to back that up, haven't you ??? SF)
"I guess there's a couple of times I might carry on a bit but I'm out there giving 100 per cent," McGrath said.
"I'm a fast bowler and I'm not supposed to skip around and smile. (Ummm, Rubbish! I can think of a few "great" fast bowlers who don't act like a pork chop on the field. For example, have you ever heard of a bloke called Curtly Ambrose or maybe Wasim Akram ???? SF)
"If people are saying I'm not aggressive then as far as I'm concerned, I'm not doing my job (Once again, WRONG!!! I think, Glen, if you look at the job decription it says "get batsmen out" It doesn't say, "Be aggressive". Possibly you may have grabbed the wrong selection criteria. Probably the boxer's. Or the drunken, mindless fool. SF)
"What people don't know is that you're trying to win the game (yes well, thanks to Hansie we can be forgiven for not being sure SF)when you're on the field but away from the field I get on well with Nagamootoo. (So! SF)
"I've received letters of abuse that are 100 times worse than anything that anybody's ever said to me on the field. (I hope the abuse doesn't worry you - BECAUSE THAT IS THE FRICKEN POINT YOU SILLY DUFFER (this is a family website)!!!!! SF) And then there are plenty of people that love the way I play." (Yeah right. They love the off cutter, the bounce, the impeccable length but I'd be astonished if anyone cared for your abuse of fellow human beings SF)
For those who aren't aware. Glen McGrath has more wickets than Ray Lindwall, a better average than Ray Lindwall and a better strike rate than Ray Lindwall. Yet Ray Lindwall is regarded as one of the two best fast bowlers Australia has ever had. And no one can say Ray Lindwall went easy on the opposition. he and Miller loved bowling copious bouncers at the opposition. But he is loved. McGrath is tolerated. This is McGrath's fault. By the end of the year he should have passed Lillee's record. He still won't be regarded as our best. I almost feel sorry for him but he has made his own bed.
Basically, Glen McGrath just doesn't get it. You need to work on your skills to remove batsmen, not treating them like your at war. It's a simple thing and if he truly believes his behaviour is crucial to his wicket taking then all I can say is Glen McGrath is a bloody idiot.
It will come as no surprise to our regular readers to find Glen McGrath as Bufoon of the Week.
Sir Francis
-------------
13/1/2001 - Apparently the Police have blasted Shane Warne for kicking tennis balls into the crowd at the recent ODI against the Windies at the MCG 11/01/01. His pathettic excuse was that he "was bored" Bored!!!! Playing for Australia!!! In an ODI ???? How could anyone possibly be bored in a ODI. Watching, or playing. Heaven forfend. I just hope the ACB weren't listening to such sacriligious talk. ODI's pay for your ferraris, pal! Also, he said " the game was petering out to a victory for Australia" I must admit that is the most creative sentence ever composed including the word "petering" I've ever seen. Usually the word everyone is most familiar with when suggesting something is petering is a draw.
Maybe he was bored.
A few more snippets: With temperatures rising all round - it was 106F at one stage in the ground - a police statement read: "Shane Warne was not aware of the ramifications when he kicked a number of tennis balls into the crowd after they were thrown on to the oval."
Things were certainly quite lively, as the statement continued: "Police arrested 34 people, mainly for being drunk, and evicted around 166 people."
Warne said: "I didn't want to trip over any tennis balls so I was kicking them back to the crowd. I was having a bit of fun with them because I was getting a little bored with the game.
"I thought it was keeping them in their seats rather than having them run out on to the ground, which, unfortunately, a few did. We're entertainers and we have to entertain the crowd."
Entetrtainers huh! And what exactly is your specialty Warnie. Song and Dance man? he does a brilliant Mr. Bojangles and his Danny Boy is to cry for. A vaudivillian from way back (who would have thought ?), or maybe venrtriloquism is the deal, "Gottle of geer, gottle of geer". Or more likely, a magician. Especially with those tricky zooters. And his expertise with the lasses (watch me saw this girl on the phone in half), or members of the audience (can I have a bag containing a camera from the crowd), or watch me smoke through my ears (just light up and . . . puff). And impressions, he can emulate a boorish thug when dismissing a batsman without any perceptible change in demeanour. it's like he was born for it.
Nevertheless,Warne should know better. For goodness sake! Someone could have been seriously injured. Somebody could have lost an eye!. Bloody hell Warnie what were you thinking. God forbid he should throw a beach ball back to the crowd. We could have our first death in the crowd of a cricket match.
Unfortunately this story has spread around the world. A non story simply because the name Warne features. This sort of thing becomes a vicious circle. Warne does a little thing, it's reported, he does another, it gets reported again until he just kicks a tennis ball (I wonder if he finds tennis boring?) and the whole world comes down on him. It takes someone with a great deal of mental toughness to survive this sort of thing. I couldn't do it. i'd lash out at the media. Maybe attack someone physically. I wouldn't last too long in professional sport.
Melbourne police . . . Buffoons of the week. Well done. (Warnie a creditable second)
p.s.
I came across this atricle written by former very good cricketer, Dean Jones in response to the outcry over Michael Slater's omission from the one day team: http://www.thepavilion.com.au/international/20010110/A12553-2001Jan9.html
I am completely lost for words by this article (simply, he states that one day cricket is harder than test cricket and sorts out the better players than tests do ??!!??). For decades we have heard (good) players say the opposite.If it was April 1st I could understand this statement. However it is January. Deano is mad. Granted he's played tests (and was very good) and ODI (and was even better) and I haven't but these are clearly the ravings of a lunatic (which disqualifies him from Buffoon of the Week consideration - sorry Deano).
-----------------------------------------------------------------
I think the West Indies are starting to regain their sense of humour. In the online edition of the Barbados nation there were two headlines that made me smile. Buffeted by Breese and Gayle. A reference to two jamaican players Gareth Breese and Chris Gayle against Barbados in the Busta Cup. Gayle got runs, Breese got wickets.
the best headline however was regarding the ODI between Australia and West Indies where Mark Waugh and Adam "Noddy" Gilchrist put on over 200 for the first wicket. It was Aussies Break Windies. Nice work Nation. Keep it up.
----------------------------------------------------------------
In today's Daily telegraph (18/1/01) Steve Waugh has written a self serving article saying he's sick and tired of criticsm of the one day game. This follows on from last weks article by Dean Jones where he suggested it took more skill to play one day cricket than it took to play tests.
See: http://sport.news.com.au/common/story_page/0,4057,1620012%255E8582,00.html
Ugly Aussies bowl no one over By STEVE WAUGH
18jan01
DON'T let me hear anybody criticise one-day cricket. (cover your ears then Steve)
I've heard limited overs matches called many things over the years. The pyjamas game, quick fix cricket, mickey mouse cricket or the one-day circus (Steve gets around, I've only heard the first example).
All of those terms are made by people who either refuse to embrace this shorter version of the game or who can't see the skill and technical aspects required for players to be successful at it. (Dead right! I don't embrace it and as for skills ?????? ok fielding has improved - but not beyond what a human being could do anyway)
For a person who has spent 15 years of his life playing 300 games, sacrificing endless hours on the practice fields and many months away from home, I feel shortchanged by such a belittling attitude. (having played NO games I can tell you you're missing the point - what! You're not happy earning hundreds of thousands of dollars, having millions watching live and on TV - surely the critics are far and few between. Don't tell me you want the WHOLE world to love one day cricket ? How boring. Isn't there room for diversity of interest and opinion. Different tastes ? Are you a closet fascist Steve ?)
One-day cricket is a constant challenge that requires highly specialised training, extensive planning and the ability to be able to improvise and stay one step ahead of the opposition. (Balderdash!!! Poppycock!!! What unmitigated crap!!!! You want to provide some examples ? Every single one day game is just like the last, that's why they are boring. Even Warnie admitted as much last week.)
The game has certainly changed since my debut against New Zealand way back in 1986 under the astute guidance of Bob Simpson, who in fact was the catalyst for Australia's resurgence in the years ahead. (Ah! We come to the crux of the problem. The great man, Simmo! The creator of the modern game. A man who literally hated boundaries. For Simmo, 300 singles off 300 deliveries was heaven)
Before this era, the one-day game was played with the same tempo, intensity, skills and techniques as Test matches with only the length of the game the obvious difference.
When Simmo joined Allan Border at the helm of Australian cricket, we headed off in a new direction to all the other competing teams. We actually had a specific game plan and strategy to learn and follow which, when put effectively into place, gave us a distinct advantage over our adversaries. (And this pattern has not changed since. Boring, boring, boring - thank goodness for the sri lankans - but why did it take the world 15 years to think about attacking from the start??? Australia didn't come up with that tactic. No, Simmo wouldn't hear of it. See Steve, there is no innovation. Australia has played the same way since 1986 no matter what and it is BORING!)
The future as we see it means players who are excellent athletes are able to learn new skills and be flexible in their approach. Skills like throwing with both hands, batting both ways, practising more specifically and simulating game conditions more often -- searching for any minute advantage. (I haven't seen much of this though I read about an indian bowler in the Under 15s who can bowl with either arm - sounds gimmicky, sounds like baseball - still, I'll keep an open mind but for the rest of the article Steve Waugh completely misses the point why your less than humble corrspondent hates one day cricket. Let me spell it out for you Steve. O. N. E. D. A. Y. C. R. I. C. K. E. T. I. S. B. L. O. O. D. Y. B. O. R. I. N. G).
Steve accuses me of refusing to embrace the game because I can't see the skill and technical aspects to be successful. RUBBISH!!! That's a smoke screen. There are many sports, most in fact, that I don't like but I can still appreciate the skills involved. I'm not interested in basketball, or motor sports, or Australian Rules Football to name a few. But I'm well aware that these and all sports take skills to play them well. I just don't enjoy one day cricket because of the sameness of each game. Australia's great victory in Hobart last season against Pakistan could not happen in an ODI. A bowlers job is not to take wickets but to prevent runs. A defensive tactic. A batsman's job is to score a single off every ball. Anyone 'satisfied' with that is easily pleased. Give me the crash, bang, wallop any day. And please, please don't tell me one day cricket is more skillful and a bigger challenge than tests. When I hear that I just want to wrap a bat around the speaker's head.
Anyway Steve, me thinks you protesteth too much. Congratulations, you are our Buffoon of the Week.
-----------------------------------------------------------------------------------
Editorial - 20/1/2001
So Murray Goodwin has hammered 167 off NSW in a Mercantile Mutual Cup fixture yesterday (19/1/01). I can not see how the ACB has allowed WA to steal one of Zimbabwe's best players. How is this good for world cricket. How is this good for Zimbabwe cricket, or WA for that matter. he can't play for Australia for at least 4 qualifying years, where he'll be into his 30's. Australia certainly don't need him and Zimbabwe desperately do. It make Australia look petty when we rape weaker sides. No wonder no one rates this team complaining, "Who have they beaten?"
I considered it not a little evil what WA have done and the ACB have allowed. World Cup money should be provided to teams like Zimbabwe so they can pay their players a decent wage. Otherwise, why bother. Why have a ten year cycle of tests when half the teams aren't on a level playing field.
let's just have Australia, South Africa, Pakistan and Engand for tradition (and someone everyone can beat). And tell all the other countries, "Go away, you're too poor to play with us".
It is simply wrong and it disgusts me. WA should be banned from all cricket for 2 years as a penalty and a warning to all other rich clubs who try to denude poor countries of their good players.
And immediately the ICC should provide funds to those who need it to save their teams. it's a simple thing and easily affordable by the ICC. What is the point of the ICC if they can't protect countries like Zimbabwe (and the West Indies too. I imagine)? Just to collect money and then horde it ? THIS MUST BE FIXED NOW!!!! SF
-----------------------------------------------------------------
Editorial - 27/1/2001
I don't have too much to say about the Mark Waugh fiasco except that I feel quiet sad about it. There's no more fun in this at the moment. I'd be shocked if he has lied. But the moral high horse the australian press has climbed has sickened me to the core. They know he's answered all these questions before. And they promise they'll leave him alone after this. Rubbish! They will only stop if he admits everything the want to hear including that he killed Princess Diana, JFK, started both World War I and II, and was a member of the communist party. Mark Waugh now knows it will never end. The press will hound him forever. Look at Ian Botham. He hasn't played for years but he's still front page news. I'm afraid Shane Warne will also suffer this. The thing is that the self appointed guardiands of our morals, the judge, jury and executioners of society: The journalists! Are notorious bloody liars. They will do anything their master tells them to do (usually Murdoch) without any concern for facts. They are cads, liars and bastards. Yet they pontificate on their victims behaviour. They are vampires. They are scum. And if Mark Waugh turns out to be lying this opinion still holds because evidence over 100 years is still there - ot is no accident or joke that the cliche' the first casualty in war is truth, only truth is now just an accident - There is no need to enter the misty realms of conspiracy theorists as it is no secret that american governments since WWII have with increasing ardour assassinated leaders and overthrown democratically elected governments (albeit mostly leftist) whenever they felt american interests were threatened and the US press has steadfastly refused to report these terrorist acts to its own people - the rest of the world are well aware of these heinous acts of barbarism committed, laughingly, in the name of freedom and democracy it is just that it is a shame that this sort of reporting has infected the world of sport simply to sell newspapers. There is no such thing as a journal of record anymore (if there ever was).
For several years they have been out to get Waugh. I think this time they will succeed. If they do, I, Sir Francis, will declare war on all journalists. Your evil lies must and will be exposed! I shall be the Noam Chomsky of cricket (sorry if that sounds like I'm trivialising an important issue. I'm not. I truly hate the press.)
-------------------------------------------------------------------------------------------------------------------------------------------------------
Editorial - 30/1/2001
Well we didn't really have anyone outstanding to call Buffoon of the Week (despite a few valiant efforts) But this week's first entry (and he will be hard to beat) is former Wallaby player and journalist (and I mean that in a derogatory sense) Peter Fitzsimons. he has written an opinion piece that has appeared in the Melbourne Age and Sydney Morning herald of 30/1/2001 that goes something like this:
Tuesday 30 January 2001 Warne's words one more bit of stupid nastiness By PETER FITZSIMONS
http://www.smh.com.au/news/0101/30/sport/sport2.html
And there we have it. On Sunday at the SCG, Shane Warne - the finest and most famous bowler of his generation - twirled in for the final ball of Australia's 24th over, and fizzed one down to the all-but-unknown Stuart Carlisle from Zimbabwe. In response, Carlisle did not poke, prod or stuff around, as we have seen from so many timid batsmen facing Warne before. Instead, he tonked the ball, rising outside off-stump, through the covers for a handy three runs. A good sporting moment, an action helping to give life to an otherwise dull game. The crowd roared, appreciating Carlisle's admirable derring-do and wishing more buckles for his swashes. And how did Warne - the man who would captain Australia, the hero of thousands of cricketing kids - respond? A nod of acknowledgement, perhaps, for a fine shot? A clap even? Maybe even, swoon, a "Well played, Stuart!". Of course not. Instead, as clearly picked up by the Channel Nine microphone and broadcast across the land, Warne said: "F----ing arsey c---." A moment here. It's not just the uttering of the words themselves that are offensive. Many grown men use some or all of those words reasonably regularly (few, though, I would suggest, might have come up with quite so concentrated an epithet. That took talent and, I suspect, a lot of practice). It's what the words represented in that situation that is so galling, read appalling. The sheer ugliness of talking like that - while representing your country, and in response to a bold visitor who has bettered you on one occasion - is what takes the breath away. Let's call it for what it is: just one more bit of stupid nastiness from a guy who seems to specialise in it. Warne is so sensitive to anything remotely approaching criticism himself that he will leave the stage if a journalist merely inquires as to his corpulence, yet feels free to vent his spleen in this fashion to a fellow sportsman. And what does Warne say in his own defence? The usual. It was no problem with him or his actions, it's simply the fact that it made it into the public arena (anyone else getting deja vu all over again?). Warne's initial reaction when reporters tracked him down yesterday at Sydney airport sounded like the quintessential Warne. "I was a bit disappointed but that's the way it goes," he said. "I thought it was something that would be best left on the field. I was disappointed and I regret that it got on to the homes of some viewers." You get it? It was those damn stump microphones what dunnit, your honor! What he said got from the field to the homes of the viewers, and so it's their fault. Never mind that they have been around for 20 years, and that Warne has never played a big-time game without them. Those damn things took him by surprise! Amazingly, Nine's head of sport Gary Burns tried to defend Warne. "We know Shane would never say that deliberately and that his comments were said in the heat of the battle," Burns said. Hang on, Gary, what do you mean he never said that "deliberately"? Who had the gun to his head? And what do you mean he said it in "the heat of battle"? That wasn't a battle, Gary, it was a massacre and was always going to be from the moment Australia scored 291 in its innings. The ugliness was so unnecessary, it was all the more ugly because of it - just like chasing a 15-year-old schoolkid in New Zealand because he took your photo smoking, or having telephone sex with a woman's voice-mail, for Gawd's sake! As always, the only saving grace in the whole wretched thing is that he is not Australian captain, and never will be.
AND MY RESPONSE TO THE EDITOR AND FITZY: Dear Sir, In response to Peter Fitzsimons thought piece on Shane Warne. First of all, let me say I love Fitzy. I believe he should have played more tests. However I am absolutely stunned at his attack on Warne. Of the buffoons in the press who've been having a go I understand. They have to sell newspapers and Warne and Mark Waugh have been facing open season for some years now. I would expect journalists who have never picked up a golf ball in anger to not understand what playing competitive sport is all about, but Fitzy ????? For crying out loud! This man has faced the All Blacks. This man has had his face rearranged by countless french boots (and he bravely let's it show). I can not and will not believe he has not heard similar statements in the heat of battle (I know he understands french too). Fitzy is either deaf or a f . . . . . hypocrit. Of all people to criticise Warne for this he should have been the last. I'm actually upset by this article. I'm not a fan of Warne's behaviour (not to mention McGrath, S Waugh, especially Ponting et al) but for goodness sake. What do we want from this poor bloke. This is who he is. Take it or leave it. He seems to be a bit of an idiot and doesn't come across as a brain surgeon or a doctor. But bloody hell, having read some of the vindictive trite from a select few of your sport's journalists and virtualy all of the others from News I know who I would prefer to talk to. At least Warne isn't a hypocrit or a liar. He's just himself and if sports journalists want Ghandi or Princess Diana to play sport instead well I think people may lose interest and quite a few writers will be looking for new careers. The recent attacks are getting really out of hand and I wouldn't blame any young sportperson to think twice before talking to the australian press. It seems we're going the way of the british press and that is very sad. Maybe Fitzy felt he has to compete with the idiots at News. If so, I'm disappointed. He should know better. He's been there and done that. He's even met Mother Theresa (yes I've bought Basking in Beirut) but apparently learnt nothing. I have no desire to ever meet Shane Warne. He's not the sort of company I would enjoy but Peter Fitzsimons has lost a fan, not Shane Warne.
Congrats Peter you will almost certainly be this weeks' Buffoon of the Week (Gee I hope so, I'd hate to think someone else could top this by Sunday)
SF
Further to the above spiel. Peter Fitszimons in his writings today (3/2/01) wrote this: (he didn't get back to me personally - so he's either a coward or he was snowed under by people such as myself writing to him.
See what you think of hsi snivelling comments:
Cheap shot hits home I couldn't be bothered with going on with the Shane Warne thing, could you? Enough already. (this suggests what I said, He's had lots of negative press but does not think he's wrong) Let me merely make the point that it is NOT obligatory to badmouth an opponent who gets the better of you. (No, it isn't. But my point was that it happens anyway and only a fool would expect it not too. I also made the point that an international rugby player like Fitzsimons must have heard (and maybe uttered) worse))Reader John Campbell remembers that a couple of years ago on ABC radio, Keith Stackpole recounted how he and Bill Lawry were once batting in a tight Test match in India. As the Indian bowler came in for the last ball of the over, he slipped in the delivery stride and the ball trickled out of his hand harmlessly towards square leg. Stackpole relaxed but Lawry yelled at him, "You're entitled to hit that" and, as his captain, instructed him to do just that. Sheepishly, Stackpole walked out to the stationary ball and belted it to the boundary. With the over completed, everybody was moving to their new positions and as the Indian captain, the Nawab of Pataudi, ambled past Stackpole he did not bombard him with a mouthful of vile and petulant invective, but instead looked him coolly in the eye and said: "Shot!" Can you imagine, Campbell asks, S.K. Warne reacting with such maturity and wit? I cannot (Irrelevant. There are plenty of examples of wit in sport as well as examples of nit wits. But what has that got to do with anything. if he wants well read, intelligent, witty, gracious, nice, renaissance types to play international sport then I wish him luck. To slightly paraphrase Monty Python. Mike Tyson in the ring with Mother Theresa. Is that what Fitzy wants. Or Richard Loe vs Princess Diana.
Sorry Fitzy, mate, You're still Buffoon of the week. And you are still a hypocrit. (Though the indian spokesman for the police did make a valiant late entry suggesting John the bookie had no reason to lie and his evidence was corroborated! Where ??? Certainly not in the hearsay ridden BCI report. So why would an illegal bookie who makes millions for the indian mafia lie ?? No reason except maybe, just maybe (not that I think I know more than the police but . . . ) let's see how many cliches can I come up with. Clouding the issue, muddying the waters, smokescreen (sounds like a weather report). For goodness sake it was obvious to me what he was trying to do. Name enough names and get the police wasting time looking at innocent people. It is obvious, isn't it ? In any other week the indian police would be our buffoon of the week but even they can't prise it from Fitzy this week. Anyway, check it out for yourself: http://www.thepavilion.com.au/international/20010203/A19077-2001Feb3.html
--------------------------------------------------------------------------------------------------------------------------------------------------------------------------
8/2/01 - This article apperaed in a News Ltd. newspaper: 08 February 2001
Kenya sack 11, cancel tour
From our wire services 08feb01 NAIROBI: Kenya's governing body sacked 11 members of the national team, including captain Maurice Odumbe, overnight and cancelled a two-month tour of India and Bangladesh. The Kenya Cricket Association accused the players of holding the body to ransom after they demanded more money. Players say they had not had a pay increase for three years. "They (the players) have got away with murder in the past and we have been brilliant about the whole thing," Kenya Cricket Association Secretary General Anil Sarkar said. "But they have blackmailed us too many times." Star batsman Steve Tikolo and middle-order batsman Hitesh Modi are the only high-profile members of the squad not to be sacked but Tikolo said he would not play for his country again unless the KCA backed down. "This is not the way to do things," he said. "I'm with the players. The others must be put back in the team. If not I'm not playing." The Kenyan team was due to fly to India next week in a tour which would have included three one-day internationals against the national side. They were then going to travel to Bangladesh. Sarkar said the KCA was particularly angered by a threat from some of the players to refuse to play against Sri Lanka A in a match last month unless some demands were met. KCA Chairman Jimmy Rayani warned there might be no way back for the sacked players. "We cannot condone such militant action by players and we shall constitute a new team if need be," Rayani said. Skipper Odumbe said he was angered by the KCA's decision, describing the body as a cartel. "I am disgusted by the sacking," he said. "There is no respect at all. Their attitude is 'why should I sit down with someone like Jimmy Kamande who used to be a ball boy?'. What is wrong with what we are asking?" Sarkar said Odumbe was the main instigator of the dispute and said the captain faced disciplinary action for talking to the press. Apart from Odumbe the others to have their contracts terminated are openers Ravindu Shah and Kennedy Otieno, all-rounder Thomas Odoyo, fast bowlers Martin and Tony Suji, Jimmy Kamande, Brijal Patel, Francis Otieno, Peter Ochieng and Lameck Onyango. The players' demands include a larger appearance fee, currently 3000 shillings ($73), a better salary and medical coverage. The International Cricket Council said it was too soon to comment on the developments. "We have been made aware of the situation and we will be investigating further," said Mark Harrison, a spokesman for the ICC in London.
-----
All I want to say is where does all that money the ICC makes, go ???? eh! This should not happen. Zimbabwe lose Goodwin, Huckle, Johnson and now this. Cricket is going backwards and the officials are to blame.
------
11/2/01
Malcolm Conn, a 'writer' for News Limited who has carried out a vendetta against Mark Waugh for some years had this to say on 11/02/01:
http://sport.news.com.au/common/story_page/0,4057,1696471%255E9753,00.html (hope I spelled that right)
10 February 2001 Waugh plays survivor BY MALCOLM CONN FOR all the public and private angst Mark Waugh has suffered over the latest accusations of improper dealings with illegal bookmakers, this morning's hearing in front of anti-corruption investigators is unlikely to uncover anything that can condemn the Test star. Waugh will arrive in secret and be ushered into a function room in a private part of Melbourne's Hilton Hotel. The entourage will include his manager and at least two legal advisers. It is unclear whether Waugh will comment after the hearing, which is expected to last between one and two hours. If (If?, if?, if? you expect something else Mal???) Waugh continues to deny he received $36,000 for weather and pitch information from Indian Mukesh Gupta during a 1993 six-a-side tournament in Hong Kong, then it appears he will ultimately be cleared of any further wrongdoing. (oh what a shame Mal, but then why did you harrass him into appearing if you knew and as Waugh said nothing would come of it??? very close to getting BotW status) However, it is unlikely he will be unburdened before Waugh leaves for the Indian tour on Tuesday as part of a 14-man squad. Indeed, the head of the International Cricket Council's Anti-Corruption Unit (ACU), Sir Paul Condon, claims the six-man ACU's report into allegations made against players from eight of the 10 Tests countries would not be ready until April. Only players from Zimbabwe and Bangladesh have not been implicated. This would not stop the Australian Cricket Board's special investigator, Greg Melick, who is only looking at the Waugh case, from making more prompt recommendations to the ACB. If, as expected, Melick recommends there is no case to answer this will not mean Waugh walks away unscathed, the hearing was a waste of time or that Gupta, so far a reliable witness to Indian police, simply made up the story. (How the fucking hell is he reliable witness???? Nothing has been corroborated! Fuck me dead these Buffoons are muck raking Fucking A---- C---!!! For those who haven't read the wonderful BCI report there is absolutely NO proof. it is 162 pages of hearsay. if Cronje hadn't admitted anything it would be 162 sheets of toilet paper. As i have said many times 'John's mentioning of all those names was a smokescreen) It will mean that Melick and his ICC colleagues Alan Peacock and Martin Hawkins from London have no significant evidence against Waugh following the failure of Gupta and former Indian all-rounder Manoj Prabhakar to co-operate with cricket investigators. (NO. They have no significant evidence PERIOD!) But Waugh's initial reluctance to answer questions, which prompted an ACB threat of suspension, has further tarnished his reputation. (If you had a reputation you piece of shit, Conn it would just be tarnished, it would be smashed to pieces) In a letter to Waugh which helped defuse the issue, the ACB said investigators wanted to know the number of times Waugh met with bookmakers and received money, the total amount of money he received for providing information about cricket outside recognised media, the identification of any bookmakers and details of his dealings with them, the identification of any current or former international players who may have been involved and recollections of any meetings with a bookmaker in Hong Kong. Waugh's reputation received a battering in December 1998 when an investigation by The Australian uncovered the Waugh-Shane Warne bookie scandal. That incident is likely to feature largely again today as the ICC's Anti-Corruption Unit tries to piece together whether in fact Gupta, who implicated a string of Indian and foreign players to India's Central Bureau of Investigation, is the same man who gave the two Australians money for information during the 1994 tour of Sri Lanka. Gupta is the mysterious "John" who bought information from Waugh and Warne. Gupta may have the well-travelled alias of John but nowhere in the exhaustive 162-page match-fixing report from India's CBI can the link be made to Waugh and Warne taking money from him during the 1994 tour of Sri Lanka. (Well, finally! Maybe you have actually read it. Also no link can be made to anything - pity you don't tell the readers that you fuckwit!) A very pissed off SF
I shan't apoligise for my reaction to this tissue of smear. Conn has been the leading critic of Mark Waugh, there have been far more virulent articles attacking Waugh and I may collect them all and post them on CricketWatch.Conn deserves far worse than you may read here. He may hate Mark Waugh but I loathe him and his ilk and would find the world a much better place if he was dead! (no. That is not too harsh!)
p.s
I've just been reading about O.J. Simpson's road rage. I think I'm suffering from Press rage. Lucky I'm all alone hunched over an iMac (lucky for all you Buffoons out there). Despite the above effort The Buffoon of the Week is someone else. It was a close run thing between two of Conn's News colleagues.
------------------
We've received our first letter from a J. Goodman. I asume he doesn't want his email address published as it gives away where he works and I also asume he doesn't want that to be known (not that their is anything to be ashamed about working for a dpartment in the public service)

Jim writes: Commentators and critics expect professional cricketers to adhere to old-fashioned sportsmanship. But the modern day cricketer is very different
to the cricket player of the 1950s, 1960s and 1970s. Back in those days, even the best cricket players would have struggled to make a good living
from cricket alone. In contrast, today's international cricketers are high income earners, often multi-millionaires.

There is a big monetary diference between those who are regular international players and cricket players who frequent the first class level of the game. With that in mind, it seems logical that most international players would be desperate to keep their position. Why walk when you nick a ball when the consequence could be that you go from earning maybe $400,000 to $40,000 a year. I suppose that this might go some way in explaining the sledging that goes on. Let's face it, money can bring out the worst in people or go some way to compromising their ideals. Personally, I don't like vicious and ill-tempered sledging but seeing that the game has changed so much then we should set the parameters to match this change. With this in mind I propose the following for consideration:-

1.No voluntary walking. You can only be out when the umpire raises his figure. Just like innocent until proven guilty. This will (hopefully) put an end to the dummy-spits from the fielding team toward the batsman when everyone but the umpire knows that a batsman is out.

2.Both umpires officiating are from neutral countries. I get sick of visitor teams blaming the local umpire for poor or losing performances. This step would take this complaint out of the game. It may require some extra money being spent on umpires and their development. For example, perhaps umpires from India could officiate in the Pura Cup while Australian umpires could officiate in first class matches on the sub-continent.

3.Penalties for certain behaviour. For example, a 10 run penalty for showing dissent and a 20 run penalty for swearing at the umpire. Even a suspension for repetitive infringement.

I'm sure there are other things that can be done. Anyway, my point is that cricket should look to be totally professional like the NBA in basketball or the AFL in Australian Rules where the players have definite rules and there is nothing unsporting or wrong with the players behaving any way they like
provided thay don't overstep the limits provided by the rules.

I find myself mostly in agreement with our first correspondent. In point 1 it seems that this is almost in effect as the commentators suggest that Brian Lara is the last one in the modern game to walk. However if this idea was put into effect it would prevent Brian from not walking in that crucial, series winning innings (not that he would ever try that one on)

Point 2 is worthy of consideration but I feel a bigger problem is the almost complete lack of quality umpiring in the world today. take away Shep (who is desperately close to retirement anyway there are no other good umpires in test cricket. Bucknor has gone backwards and venkat has absolutely no idea that there is a no ball rule (I still laugh at Gough's hat trick in Sydney, the middle ball was so over the line that Goughie's foot nearly reached the batsman before the ball but as there were about 80 no balls a day not called in that game I guess it was fair for both sides. Boy, I bet the bowlers had fun that game). Possibly contries could identify what they feel is there best bowlers and send them to England for a season in County cricket. Umpiring daily should improve them (I hope). One problem i can see with 2 so-called "neutral" umpires is that the desire for people to become test umpires may diminish. One assumes that part of the reason some people get into it is for the opportunity to umpire in a test match. naturally enough, in one's own country. If one has no chance of ever officiating in one's own country a prospective umpire may not even bother. This could lead to even worse umpiring standards than we see right now. I suppose an umpire each officiating from the two actual countries playing is a backwards step?

Still, something must be done to improve umpiring standards. Anyone else have any solutions ?

Point 3 is excellent. The harsher the penalty the better. If a repeat offender costs himself a test he'll be dropped. It's a little known fact that the new rules that came into place recently have special considerations. For instance, the 5 run penalty for sledging is NOT to be used at test level. Hardly seems worth introducing

Well done, Jim. keep the letters coming.
------------------
2/3/01 - Taken a break whilst everyone pays tribute to the Don and the first test is played between India and Australia. For the first time possibly, ever I find myself in agreement with cricket writers including Crash:

In todays News Ltd online he writes:02 March 2001
Slater shows it's a farce

By ROBERT CRADDOCK in Mumbai

NOT for the first time the match referee system has been exposed for being riddled with inconsistencies and a lack of justice.

Match referee Cammie Smith's inability to punish Michael Slater for the face to face sledge he gave to Rahul Dravid yesterday basically means you can get away with whatever you like on the field.

In Australia we have become used to borderline conduct from a team which makes no apologies for using verbal intimidation as a key weapon.

But making your point from a hand's width away when all the batsman was doing was following an umpire's decision is beyond the pale and deserved stern action.

Slater was adamant he took the catch but that's not the point.

Dravid was only standing his ground, as Justin Langer did when Brian Lara unsuccessfully appealed for a catch, and just as Ricky Ponting had done when he survived a close call in the one-day series.

Or, indeed, as Slater himself had done when he edged behind in the first innings but was given not out. (ABC cmmentators suggested that Slater was offended that Dravid would not take his word and, n effect, impugned his reputation, as Crash says, Slater did not walk - now this doesn't make him a cheat necessarily, but it does make him dishonest, secondly, there was enough doubt about the catch to knock it back. Slater recently turned 31. His behaviour was more akin to a 13 year old. Now that the ICC has basically said Slater's behaviour has been approved players will copy him. The ACB must act. I would call him home from the tour and ban him from playing cricket for the rest of the australian season. If the selectors then wish to pick him for the Ashes, good luck to them. I'm sure Slater will be suitably chastened as will a certain Richard T. Ponting who's behaviour is generally worse. (not too mention the idiot McGrath) This won't happen. And in the week of the Don's death. Nice way to show respect Slats.)

Some referees would have been prepared to make the tough call but West Indian Smith is a renowned Mr Nice Guy.

Everyone who knows Smith thinks he is a fine fellow but the game needs tougher men if it is to clean up its image.

Cricket would be better off having match referees who have never played the game but aren't worried about offending people.

Cricketers have lost their faith in each other and it is creating enormous tension in the game.

The whole "spirit of the game" mentality cricket buffs like to puff there chest out about is hypocritical.

For all the talk of cricket being a gentleman's game its standard of sportsmanship doesn't compare with a sport like golf where, if anyone is even suspected of bending the rules, his name is never the same again.

Let's not kid ourselves - cricket has become a game where you get away with what you can.

Unfortunately I wholeheartedly agree. I'd bring people Like Sir Vivian in to b ematch referees. Curtly would be another. maybe Justice King & Quayyam as well. Maybe Arnie. I'm certainly available. And if any recalcitrant country baulks at a player's suspension then they can cool their heels and play NO cricket (read ODI) for the same period the player has been ousted.

Here are a couple of items from the british press (Telegraph and Times) that show the way cricket is heading:

Stewart described his dismissal to a ball from Sanath Jayasuriya that pitched a foot outside the leg stump as "the worst decision against me in any form of cricket". Like Graham Thorpe, he said that he had no quarrel with the Sri Lankan appealing and even said that "running on the wickets with studs on is a part of the game to an extent". But he did add: "It needs strong umpires to stamp it out if it's going too far, especially the running on the wicket." - CMJ/the Times

and

It cannot help when he gets the sort of lbw decision, as he did in Galle, that brings the game into disrepute. Calling it "the worst I have ever received", Stewart nevertheless tried to paint it white, remembering that "there are other occasions when you nick one, or when you are plumb lbw, and it goes your way".

Stewart accepted England's misfortune with the umpires as one of those things. "I don't have a problem with fielders appealing all the time but you need strong umpires, and a strong match referee, to stamp it out when it goes too far.

"With hindsight, the ICC should have looked at that first Test and said, 'we need an experienced umpire'. It is important that in games when there are plenty of fielders round the bat, and the ball is turning, that the officials don't go under."

The umpires can expect two more difficult matches for, as Stewart said, "if you think you can get somebody out then you appeal. That might not sound nice but it is how the game is". - Mike Henderson/Telegraph

and

Jayasuriya defends non-stop appealing

Sri Lanka skipper Sanath Jayasuriya rushed to the defence of his players after four were fined following the ill-tempered first Test against England.

Jayasuriya said it was a natural part of the Sri Lankan game to appeal constantly, dismissing gripes from England's players and management.

A natural part of their game ?????!!!!! What the fuck does he mean by that. Cheating, attacking umpires, acting like children is part of the Sri lankan game.!!!??? If untrue he should be sacked for insulting his nation. if true Sri lanka should not be allowed to play cricket until this behaviour is no lobnger part of their game.

Granted that would probably leave bangladesh and Zimbabwe as the only 2 viable test nations.

See my point ?

SF

P.S.

Obviously the Buffoon-of-the-Week is Cammie Smith and the ICC

-------------------------
I don't normally do this but a writer for news wrote this today in the Australian. Unfortunately I find myself 100% in agreement:

03 March 2001 Why Waugh's Aussies are not a great team
By PATRICK SMITH


IT is raised as a defence of Michael Slater and his hysterical outburst during the first Test in Mumbai on Thursday that it was out of character and that Slater is normally a good, sensible bloke who eats his greens, tidies his room and always gives his seat up for old people.

That may be so. And if he can eat broccoli and cabbage at the same sitting, he is a saint as well. But this Australian cricket team, its captain and its administration are laid bare as bullies because it was Slater who behaved so appallingly, challenging umpire and opponent alike.

If one of the side's best citizens so openly, loudly and in such a prolonged manner breaches the normal protocol of the sport then it can only be assumed he is doing it with the undiluted approval of his captain and the tacit consent of the Australian Cricket Board.

Certainly, from the television footage, skipper Steve Waugh made no move to settle down his opening batsman who claimed he had fairly taken a low catch to dismiss Rahul Dravid.

The Indian batsman stood his ground - as is his right and one exercised in the recent past by Justin Langer (twice) and Ricky Ponting - for the third umpire to make a judgment based on video footage.

Dravid was given not out because it was unclear whether the ball touched the ground as Slater wrapped his hands around it. Slater believed he caught it cleanly and was indignant that his word was not accepted by Dravid, the umpires on the field or the third umpire manning the video machine.

The problem with the Slater defence is that if it is not Slater then it is someone else.

Steve Waugh said that he felt Slater would regret his actions. Yet Waugh made no move on the field to temper his team-mate. It is not the captain's normal manner to let things roll out in front of him without intervening.

Listen to the Channel Nine commentators and it is that ability to intercede, to change the rhythm of a match, a day, a session that is the signature of his captaincy.

Indeed, as his team marches towards their 17th consecutive victory, Waugh is being hailed as one of our great captains.

The Australians want to play cricket in this manner. They may not want to win at all costs, but they still have a healthy budget to indulge themselves. They are deliberately mean-spirited, charmless and undignified.

There can be few more unedifying sights than Slater running from umpire to batsman demanding they take his word as fact.

The Australians believe all this makes them harder to beat and will extend their reign as the best team in the world. That is the way Waugh wants his team to play. And he is being allowed to conduct his team that way by the ACB.

If the board didn't like the way the Australians play their cricket they would stop it. If they have attempted to stop all this nonsense and can't then they should all resign now, for their ineffectiveness is overwhelming.

The board's chief executive, Malcolm Speed, is at pains to tell us that he speaks at length to the players. It must be about pay, schedules, uniforms, equipment, golf days, lunch menus, autographs. It can't be about playing cricket in a manner that does not soil the culture of the game.

No, the cricketers and their executives are on two good things here. Winning. And money. Don't mess with that. Abuse the opponents, fill the coffers.

It is an easy out to blame match referee Cammie Smith and say he witnessed Slater's ravings, chose not to take action, so the matter rests there. International cricket and its administrators are bereft of credibility.

To pinch a favourite saying of ICC chairman Malcolm Gray: Blind Freddy could see that. What we need to ask referee Smith is this: "Cammie, just what is your definition of dissension?"

We fancy Slater would have had to ram the middle stump into the heart of both umpire and batsman for Smith to even jot a note down on his ICC pad.

This Australian team is a great one in terms of batting, bowling and fielding. It contains some of our greatest players - Waugh, Shane Warne, Mark Waugh and Glenn McGrath. But it is not a great team because that tag also requires a quality of human spirit and sportsmanship that is - by their own choice and that of the coach and administrators that lead them - secondary to victory.

That is a compromise that is unacceptable. Not just to cricket but sport itself.
----------------
Carl Hooper - 8/03/01 I'm a little surprised at the vilification carl Hooper is receiving in the West Indies. Instead of the Saviour it seems that some pundits see him as the cause for the Windy collapse of recent years (and nothing to do with the retirement of a series of fantastic cricketers). Former greats such as Holding and Sir Garry have been very critical. Holding has even taken his microphone and gone home and won't commentate in the series against South Africa. Way to help out the national team guys. Yeah encouragement, support, help. SA must be chuckling. Like they need the help. (A letter to the Stabroek news (Guyana) on 17/03/01 has reminded Mikey Holding that he too left the West Indies (for a lot of money) to pay for Mr. Packer. Gosh I love hypocrisy!))

There seems to be some sort of selective memory going on here. Firstly, Hooper was the leading batsman in the Busta Cup and took 24 wickets as well. So, on form, he deserved his place. Adams was dropped for poor form. Fair enough. In fact, the team looks for the most part, to have been picked on form and there were few other options. Lara again ? , Jacobs ? he has to keep. Chanderpaul ? Maybe but has done much captaining. Walsh?

So the selectors picked the obvious guy. Now some critics have said that the team is rebuilding but it's nice to rebuild with a foundation. You can't have a whole bunch of kiddies facing Alan Donald. hooper is in form and is experienced.

Another criticism is that he hasn't been around during the tough times and has failed to show commitment to West Indies cricket. Maybe. But the tough times have been going on for quite awhile now.

But if I remember correctly he quit the team just before the World Cup saying he'd had enough, was burnt out, not enjoying it etc. Well does a team need a guy who's focus is gone. A guy who clearly is not mentally up to doing his best? I would suggest he showed commitment to West Indies cricket by being unavailable so he didn't hurt the team. (and absolutely no one has mentioned Lara's sabbatical. Talk about hypocrisy).

Also, there does seem to have been a lot of problems with West Indies cricket for sometime. Longer than Hooper's retirement. Maybe he'd had enough of the behind the scenes problems. That seems plausible to me.

Of course he's been accused of running to Australia to make a dollar. Well he can make much more in County cricket and everyone seems to have forgotten that his wife is australian. And his little boy has been very ill.

Sorry folks, I love cricket but family ALWAYS comes first. If you can't put your family ahead of everything else i don't want you playing in my team because I know your priorites are all wrong.

So what people are saying maybe true as I've never met Carl and he may be 'the bad guy' but I'm willing to give him the benefit of the doubt. It's unlikely but I'd love to see the West Indies beat SA 3-2 with carl scoring 500 runs and taking 25 wickets just to read the comments from the critics.
-----------------
Normal service resumed - 28/3/01 I've been listening to the test series and as it was such an exciting series I've had no time to investigate. However it's back to work and this week's application for Buffoon-of-the-Week is the very fine indian writer (and not so fine radio commentator) Harsha Bogle. writing for News Ltd. He says in part:

28 March 2001
Australia victims of new spin
By HARSHA BHOGLE, leading Indian writer and commentator

BANGALORE: And so in the land that gave the English language the word, the Australian juggernaut has finally run out of steam.

It had to happen one day but even as they were bringing their winning streak to an end, the Australian cricketers were giving Indian audiences their best Test series; maybe among the greatest of all time.

Amazingly, the Indian victory was brought about by a young spinner with much promise but little to show in terms of success.

Harbhajan Singh's performance took everybody by surprise ? the nation, the team, even the bowler himself. Why, in the series preview for The Australian, I had written: "In a land that once overflowed with plenty, there is now a strange and despairing drought; where once spin flowed, like milk and honey through her mythical rivers, India is now searching for droplets".

But like in her myths, where the gods assume human forms to rid the world of misery, India found a new spin incarnation.
---
We'll leave it there, but you get the gist. Nice of harsha to rewrite his poetry just in case anyone may have missed it the first time. Possibly he's been sitting too close to peter Roebuck and copying his copy.
--------
15/04/01 - editorial

Well not much happening lately. we're still recovering from the Don's untimely demise. A few tests matches winding down to end the southern summer (though cricket is virtually year round now. It's unlikely a month would go by without a test and it seems like hardly a day goes by without a ODI).

I suppose the real Buffoons of the past month were those faceless men who selected mal Speed to be the new ICC chief. Clearly, as the australian board's spoekesman he can be seen to be a good public face and yes man. so now he's been promoted to the top job. This doesn't augur well for the future of cricket. It looks like they've picked a man to aid in coverups rather than someone who will help in cleaning up a game that desperately needs it. It would be a shame if cricket is held in the same esteem and regard as TV wrestling.

But that's where it's heading. Apparently Pakistan have made the final of a series in Sharjah (who against ? No idea) what's the 'money' they lose? I'm still kicking myself in not putting on some money when they played Bangladesh in the World Cup. I laughingly told everyone that this is the game they would throw. So put your house on Bangladesh. But, in my mind I couldn't believe they would actually throw the game. Whether they did or not is immaterial. The perception amongst those I read, listen or talk to is that cricket is fixed on a regular basis. And it will take drastic action to fix this perception AND reality. Giving Speed the job at the ICC is NOT a move in the right direction. of course it would be foolish to single out pakistan as it takes two (and often 5, or 6) to tango. One assumes that Zimbabwe, Bangladesh and (ironically) England are probably clean. The fact that Alec Stewart was named proves to me England are ok. he is literally the last man who would sell out his country and his sport. And these pages have already discussed, dissected and ridiculed the so-called trustworthy testimony from the indian mafia and corrupt police reports.

So let's not go there again (please) Oh OK - It's 53 weeks since it all hit the fan. And what has happened. Hansie Cronje has been banned from all cricket but that will no doubt be over turned pretty soon. he has strong legal power (and probably financial backing - hmmm I wonder where that came from?), Salim Malik has been banned. No proof has been presented to us against him. However he did hurt his cause when in a TV trap he admitted he was 'able" to fix games. he denied it was him but that seemed to be a lie. Of course this isn't proof either. I could say to you that I shall score a century at Lords in the upcoming Ashes series but as the names for the team were announced yesterday and I wasn't in it (AGAIN???!!!!! Damn!!!) I could very well be talking through my hat. As may be Salim. Not proof, just hearsay. Though on probabilities I wouldn't be surprised if he has been naughty in this regard. Though his accusers (Warne, May, MEWaugh and Tubby Taylor (who wasn't there!!!) and a TV program) are hardly the most reliable of witnesses. Jadeja has been banned but denied all wrong doing. The strobgest evidence against him is the 60-70 phone calls he received on one day from the bookie. His response wasn't really satisfactory. So maybe he also may be considered to be in some doubt and of course, Mohammad Azharuddin. The BCI report states he admitted to fixing 2 games!

He denied telling this!!

The BCI have yet to provide proof that Azharuddin has indeed admitted anything. Hearsay!!!!!!!!!!!!!!!!!!!!!!!!!!!!!!!!!!!!!!!!!!!!!!!!!!!!!!!!!!!!!!!!!!!!!!!!!!!!!!
of course that fact that he lives in incredibly opulent surroundings is quite damning. where is the money coming from? Who is paying him? The Indian cricket board? Unlikely as they would have said. So the money must come from somewhere and until we know where we are likely to think the worst.

Even if we think these four chaps are guilty it would be silly to think they are the only 4. Which is why it was a masterstroke by the Indian mafia to mention a bunch of other high profile cricketers as a smoke screen to muddy the waters ! (sorry for that last sentence but I couldn't resist. I may make a bad journalist myself one day-SF). Obviously others are involved. Moreover the players are only part of the problem. it's the officials who have allowed the culture of match fixing to grow and fester and I believe they are involved far more than the players (which is why Speed's selection is a terrible move - it'll just be more coverups). Certainly on the evidence we've seen Dalmiya has A HELLOVALOT TO ANSWER FOR!!!. A very rich fellow who seems to have gotten away with it completely. Money always wins unfrtunately. And though I've yet to investigate the recent continuing problems with the Sri Lankan board money does seem to get mentioned a lot.

Corruption, fraud, lies, actually it's much worse than TV wrestling. take a bow ICC you are the Buffoons of the month.

Sir Francis
-----
Actually I was going to talk about the australian team to England which I was so glaringly overlooked for - so far I've not been selected for 6 Ashes tours in a row and I'm starting to get just a little peeved - anyway I shall retain my dignity and impartiality (big bloody bottle-blonde bastard!) and discuss the selections fairly (fairly badly I suspect - but better than Peter Roebuck has been doing lately. Nothing Buffoonish to recount but enough hints to suggest he thinks England are a BIG CHANCE! we shall see).

The australian AAP writers (whoever the hell thay might be - rarely do we see a byline) have been commenting on how luckly Slater and Langer have been to be selected - curiously no mention of Ponting who admitted he had no idea how to play Singh.

So let's hop over to Cricinfo's Statsguru and take a look shall we:

Mat Runs HS BatAv 100 50 W BB BowlAv 5w Ct St

Career 70 5142 219 43.94 14 20 1 1/4 10.00 0 32 0
Last 20 20 1323 169 44.10 2 8 - - - - 11 0

Well I don't see any problems here. fairly consistent really. There was mention made that he has scored only one ton in his last 27 innings. Well. This is true. However no mention was made of 3 scores in the 90's and unbeated 86. You can do such wonderful things with figures. You can prove two opposing ideas very easily. And it's a lot of fun. Unless you do it to present a lie to the public as many (ok EVERYSINGLESUMBITCHONEOVEM). As for recent form: v India he scored 166 runs at 33.10 Certainly nothing to panic over. He was dismissed under 42 only twice in 6 innings. Can't really call that a failure can we ?? Actually since the Zimbabwe test (1463) up to the 4th test in Melbourne against the Windies (1425) he had 24 innings with 11 single figure (or 0) dismissals. So in the interests of fairness one can see he does have a problem with scores below 10 (and between 90-99). Agianst the Windies he had 8 innings and scored 373 runs at over 53 ???? So unless my analysis is sadly inaccurate (a distinct possibility - please check my maths Lord Robert, ta) It seems the journalists calling for Slater's sacking are fricken idiots!!! Very strange as it appears (apart from the single figure dismissals mentioned above) he's in good form. And I suppose it goes without saying he hasn't caused too many defeats for Australia in this time. (He had 3 scores above 40 in the only two defeats in that time).

The above analysis would suggest Michael Slater is in fine form and should be one of the first batsmen picked. Maybe he's been under apreciated because of hayden's good form. One should but doesn't expect better from sports writers.

Now for Langer:
Mat Runs HS BatAv 100 50 W BB BowlAv 5w Ct St

Career 41 2577 223 39.04 7 12 0 - - 0 28 0
Last 20 20 1355 223 45.16 4 4 0 - - 0 15 0

Surprise, surprise. His last 20 tests have shown a marked improvement. in average. Against the Windies he had 8 innings and scored 203 runs at 25.3. Against India he had 5 innings, scored 161 at 32.2. I agree that it's not fantastic but it certainly isn't a failure either. Clearly he was getting starts and not going on. Hopefully he'll sort this out in England. he's succeded there in County cricket so I assume he'll do ok. And as he has two west australian team mates breathing down his neck, he better.

Just for fun, let's look at Ponting before we move on.

Mat Runs HS BatAv 100 50 W BB BowlAv 5w Ct St

Career 42 2492 197 42.96 7 12 4 1/0 33.00 0 47 0
last 20 20 1283 197 51.32 5 5 1 1/12 101.00 0 26 0

Well I guess even the cricket writers wouldn't dare attack him with a record like that! And as he didn't play against New Zealand through injury it makes his recent form more long lasting. So, despite his failures in India he's been averaging above 50 for some time. One of editors (Lord Robert) pencilled him in for 8,000 runs at 48. I see no reason to dispute that. After all, there are only a handful of good spinners in the world and I'm sure he's good enough to improve.

Against the Windies he had 8 innings, scored 242 runs at 40.33. OK but not as good as expected from him as the Windy bowlers were not the best attack in the world. Against India of course, 4 innings, 17 runs. A bad tour. But a very good (and possibly great) player. He'll kill the poms. Apparently it is the wettest winter in over 200 years in England which won't mke any spinner happy. if the players actually get on the field the seamers will do most of the damage. I predict Ponting will be the leading scorer for Australia. (he won't have to face Lee, Gillespie or McGrath except in the nets).

This now brings us to the Buffoon of the week.. here is an example of a lying cricket writer. This chap doesn't appear very often in the News Ltd. online pages (probably for good reason). he's no Malcolm Conn but the following is a good example of what I'm talking about:

Selectors play it safe
NICE & NASTY
By ROD NICHOLSON
15apr01

AUSTRALIA'S cricket selectors have acted wisely by sticking to tried-and-true performers in the 16-man squad for the Ashes Tour of England.

There clearly was an urge for an infusion of youth. That is understandable given the age of the batting line-up.

But the key issue and the object of any selection panel is to pick players who can win a series.

That is why exciting young batsman Simon Katich and one-day find Nathan Bracken are the only newcomers to a successful combination.

An Ashes series is not the time to experiment. Australians still wonder if the outcome of the 1972 series would have been different had the selectors sent dumped skipper Bill Lawry.

The selectors could not go past the experienced players when assessing a team, and rightly so.

The fact that Steve and Mark Waugh are 35 is irrelevant. Both are brilliant players, experienced in England and are in top form.

Would anyone seriously suggest dropping either, merely because of their age?

The selectors are aware that they will not be around much longer, but that is hardly a reason to discard anybody.

Michael Slater, 31, and Justin Langer, 30, are fortunate to survive after miserable tours of India.(?????What about Ponting you fuckwit!!!!)

But they are experienced in England conditions and have been integral in many of Australia's 16 consecutive Test victories before the two hiccups in India.

Failure in England, however, would give the selectors ammunition to look elsewhere.

Damien Martyn, 29, has waited patiently for a permanent spot. When called upon he has performed exceptionally well and deserves his spot on the tour.

Matthew Hayden, 29, is in rare form and nobody could condemn Ricky Ponting, 26, to the scrapheap after one miserable series (in India). (That's just what you did to Slater Idiot!!!)

Overall the batting line-up is facing a makeover, probably during Australia's summer.

That is the time to do it - after Australia has put its best team on the field in England and, hopefully, retain the Ashes for a seventh consecutive time.
----------------
I just get so angry when I read tripe like that.

Ok let's discuss the team. (I'm not interested in the One day side except to say I feel sorry for Darren Lehmann - Again!)

Australian Test Squad

Steve Waugh
Captain
New South Wales
Right Hand Bat
Right Arm Medium Bowler
Born: 2 June 1965

Adam Gilchrist
Vice-Captain
Western Australia
Left Hand Bat
Slow Left Arm Orthodox Bowler (I guess they have to say they bowl something)
Wicketkeeper
Born: 14 November 1971

Nathan Bracken
New South Wales
Right Hand Bat
Left Arm Fast Medium Bowler
Born: 12 September 1977

Damien Fleming
Victoria
Right Hand Bat
Right Arm Fast Medium Bowler
Born: 24 April 1970

Jason Gillespie
South Australia
Right Hand Bat
Right Arm Fast Bowler
Born: 19 April 1975

Matthew Hayden
Queensland
Left Hand Bat
Right Arm Medium Bowler
Born: 29 October 1971

Justin Langer
Western Australia
Left Hand Bat
Right Arm Medium Bowler
Wicketkeeper (I bet that skill is put to use once or twice on tour)
Born: 21 November 1970

Brett Lee
New South Wales
Right Hand Bat
Right Arm Fast Bowler
Born: 8 November 1976

Simon Katich
Western Australia
Left Hand Bat
Slow Left Arm Chinaman Bowler (I hope he's better than Bradley Hogg)
Born: 21 August 1975 (Gosh! I'd just turned 15 and was already perfecting wrong-uns and getting dropped from the U15's (they were bowled out for 8
- would have been less if I played))
Damien Martyn
Western Australia
Right Hand Bat
Right Arm Medium Bowler
Born: 21 October 1971

Glenn McGrath
New South Wales
Right Hand Bat
Right Arm Fast Medium Bowler
Born: 9 February 1970

Colin Miller
Victoria
Right Hand Bat
Right Arm Fast Medium/Right Arm Off Break Bowler
Born: 6 February 1964

Ricky Ponting
Tasmania
Right Hand Bat
Right Arm Off Break/Right Arm Medium Bowler
Born: 19 December 1974

Michael Slater
New South Wales
Right Hand Bat
Right Arm Medium Bowler
Born: 21 February 1970

Shane Warne
Victoria
Right Hand Bat
Leg Break Googly Bowler
Born: 13 September 1969

Mark Waugh
New South Wales
Right Hand Bat
Right Arm Medium/Right Arm Off Break Bowler
Born: 2 June 1965

It seems slightly unbalanced as they have 2 extra middle order batsmen. Why ? I can't fathom. if they were really unhappy with Langer they should have dropped him. But One midle order player should be enough. What do the selectors envisage? Dropping Langer for poor form, bringing in Martyn and then an injury takes out another middle order player so Katich comes in. Why not just drop langer to begin with rather than think the worst case scenario (and it only takes about 26 hours to fly to London - less if you start from perth). A strange selection that allows for a lot of questions. Not the least in the minds of the players. Only 2 openers. Granted we have discovered that Slater is, in fact, good form as is Hayden. Another opener would be insurance for injury (there could be some real green tops in a wet english summer). One assumes elliot will eventually come back as he has a very good technique (maybe at 3). Alternatively they could have gone for Blewett who has had a very good F-C season and an bat equelly "well" as an opner ot middle order player. His selection would certainly have solved the selectors dilemmas. Except that the selectors may be of the opinion he may not be good enough (how does a batsman score 200 against Donald and Pollock yet have an average teetering on the brink of the Marshinot Line. Strange. We may never know how good Blewett really is. Still, elliott's selection culd also have solved the selectors problems. I know the selectors have really wanted to give Katich a go and he too had a fine season. The unluckiest fellow in all this is jamie Cox who year after year scores heavily in domestic cricket, has proven himself on english wickets yet seems destined to never represent Australia. A shame as I'm sure he'd do well. I had a feeling he'd go when he made th Australia A side this year. Alas, no.

Also there is only one wicket keeeper and he happens to be one of the best batsmen in the side. A heavy workload awaits him. Langer can help out occasionally but a second wicket keeper should have been selected. I don't buy into this theory he'd be bored with nothing to do. Rubbish. he can play 3 or 4 county games to give Gilchrist a proper rest. Gilchrist is the VC and has enough to do. And it's not like the ACB is poor. They could have afforded a 17th player. And it would have been good to see Seccombe in top company to see how good he really is too. (Forget Haddin, he's a one day slogger, a poor man's Gilchrist. He'd be 4th best keeper at best - though I expect him to improve and maybe a tour of England would have benefitted him).

As for the attack, Bracken is a mild surprise. I guess Bichel and Kasprowicz must be quite upset. And whatever happened to Cook, Nicholson and Muller. But barring injuries McGrath, Lee, Gillespie and Fleming should be enough to destroy England especially on their pitches. The sinners don't matter. Warne's average has skyrocketed since even before his shoulder operation and even his Mum would be embarrassed to say he is still test class (only needs 13 wickets for his 100 against England - it's just a question of how many more Ashes series he needs to do it) though I'd love to be wrong. Miller is a very underrated bowler. His average and strike rate are excellent but he will only get a test if warne is injured or humiliated. On wet wickets MEWaugh will do as the spinner. McGill wasn't picked. No surprise. Though he's the best leggie in Australia (modesty precludes one from including oneself in this assessment and anyway, I couldn't find my name anywhere in Cricinfo) he is a little bit overrated. My how warnie has spoiled us. If we see a spinner who isn's as good we immediately think he must be rubbish. I've seen every Australian leg spinner since 1971. This list includes Terry Jenner, Kerry O'Keefe, Tony Mann, Dutchy Holland, Brad Hogg, Michael Bevan and Peter McIntyre (have I forgotten any one) and not one of them comes anywhere near McGill. McGill is a test bowler. However he is not a great test bowler. I've been reading and hearing people talk about his wonderful 7 wcket haul in january this year against the Windies. Even the Doyen (and recently appointed "Greatest Living Australian" due to the recent abdication by the Don) Richie Benaud intimated he bowled well. Rubbish! I was there. For most of the first 2 sessions he was getting pumelled by a sadly out of form Campbell and Hinds. Once he got a wicket the Windies crumbled of their own accord. Granted he did bowl some good deliveries to get wickets but the batsman were equally culpable in their demise. He took 16 wickets at 31 in 4 tests. Which means the other 9 were bloody expensive. And this is not the greatest windy team to swagger on to a cricket field. Good. Not great.

Still, I would have picked him ahead of warne for the tests.

Anyway, that's it. A pretty good team depite my reservations. Lee is the key. If out 4 main fast bowlers play all the tests the Ashes remain in Australia. Certainly England look good enough to provide the best Ashes tests series of my watching life. I only heard about the '72 series a year after the fact and since then one side, or the other has won fairly easily (1986-7 notwithstanding). I guess it'll be psychological. If on the first day of the first test England succumb and are 8-48 at lunch it'll be all over. They'll all think, "Oh no not again". However if they can fight and play to the best of their ability from the beginning it should be enthralling. 3-1, or 2-1 (the weather will play a part unfortunately) to Australia. Injuries to Australia's key bowlers could see England win.

Let the games begin or, as Steve Waugh likes to say at the bginning of a test series in his quiet, inimitable style. "Unleash hell!"

SF

By the way, we've finally got the email service working. Eventually we would like to incorporate a chat service whereby people can write in and discuss pertinent cricket mstters. But until then, feel free to drop us a line at Daphne@cricketwatch.org. And Daphne will be sure to add your comments here for all to read.
------
22/4/01 - editorial

Back agin after an unfortunate email tragedy. Totally my fault. I deleted the last 8 months of emails and all the most recent addresses. So those of you who've emailed us and what to be remembered. Please don't hesitate to remail your emails. You may as well use the Sir Buffoon address because I'm the Buffoon this week.

On to more pertinent matters. Writers are desperate to write about something interesting with almost 2 months before the first Ashes test. There was a little excitement when a Westralian player was denounced as a 'drug cheat'. Much to the chagrin of the ravening hordes of cricket writers he was a virtually unknown cricketer who hasn't played fitst class cricket in many years. They'd been praying it was a current cricketer. Preferably Waugh or Warne, no doubt. Apparently Sir Viv remembers him as he was 'quoted' as saying he was very quick. But the bain of all bowlers, 'the bad back" has ruined his career (and was the reason he took the drugs).

After this excitement Phil Derriman of Fairfax and those amazingly opinionated AAP writers (who do they think they are? Columnists?) decided to harp on the age card. Vidi:

Thursday, April 19, 2001 (in the SMH)

Waugh says young guns will get chance

Australian captain Steve Waugh admitted yesterday the national team was aging and that it was time for younger players to press their claims for selection.

But, despite a period of transition looming, Waugh said the Australian team was still a very good one as it prepared for the Ashes tour of England, starting in June.

"Yeah, I guess we're probably looking for some younger guys to put their hand up," Waugh said yesterday, as he prepared to skipper the Prime Minister's XI against an ATSIC Chairman's XI in Canberra today.

"There's some promising players out there. A couple of 19-year-olds did very well in shield cricket this year - [Shane] Watson for Tasmania looked a very good player, so there's some talent certainly there.

"I guess it's just that these days you probably don't notice it so much because the guys are playing beyond 30 whereas 10 years ago they weren't. They were retiring and you could see the young guys coming through."

Reports this week claimed that, leaving aside post-war teams which were necessarily older, the 2001 side is the oldest Australia have sent to England since 1909. (Ok now. Why the hell should we leave aside the post-war sides eh??? We are talking about the 1921 and 1948 sides now, aren't we!. I guess it would spoil this unnamed Buffoon's argument to suggest that 2 of the very best sides to tour England were made up of old players-SF)

The reports compared the current, highly successful team with the dominant West Indies side of the 1980s which was stacked with players aged over 30 before falling into decline.

"I don't see age as any problem at all. It's only a barrier if you let it be a barrier," Waugh said.

"It's more if you're competitive, you're fit and you want to be there. If you're good enough, it doesn't matter how old you are."

But transition is inevitable soon. "Obviously the selectors are going to have to make some changes," he said. "For instance, in the next Ashes tour in four years' time, there's going to be probably less than half the Ashes squad that's going over there [this season].

"So there's going to have to be changes. I think we've prepared pretty well. We've got some young guys coming through. They've got a lot of experience now whereas a couple of years ago they didn't have that."

Waugh also backed selector Trevor Hohns's comments that some senior Australian Test players were on notice this tour to return the faith selectors had shown in them.

"I wouldn't say it's borrowed time but I think everyone's been put on notice and that's fair enough. We're professional players," he said.

The one-day series in England starts on June 9 while the Ashes series begins on July 5.

AAP

As veterans prepare for England, Australia's future may become ashes (18/4/01 SMH & Age)

Is enough young blood pushing for inclusion in the national touring sides? Philip Derriman reports.

A closer analysis (my formatting SF) of the Ashes touring side announced last week confirms the initial impression that it is both long on years and short on fresh talent.

Over the past few years Australia's top players have reached a point where the average age of the side will exceed 30, the first time this has happened in half a century. (and what tour was that ? Pray tell, Phil??? - SF)

The wider picture is even more remarkable. Leaving aside the post-war teams of 1921, 1926 and 1948, which were necessarily loaded with older, pre-war players, the 2001 side is the oldest Australia has sent to England since 1909. (I've already pointed out that fallacy in this argument - SF)

It has fewer first-time Ashes tourists than any side since 1905 and, apart from those post-war teams, fewer players under the age of 25 than any side since 1912. Moreover, of the five first-time Ashes tourists this year, two have already passed 30 - Colin Miller and Damien Fleming.

The question is what the ageing of the team means for Australian cricket. Does it simply reflect the fact that Australia has lately had plenty of accomplished players, making it extremely hard for newcomers to force their way in? (Umm, yep!- SF)

Or does it mean that the selectors have been too conservative in choosing new talent? Or, worse, that the new talent hasn't been there to choose?

Melbourne sports analyst and author Charles Davis, who studied the ages of the Australian squads, has noted one worrying precedent in the ageing squad. The first sign that the West Indians' dominance of world cricket in the 1980s was ending was a sudden aging of the team, whose average age rose from 29 in 1988 to 32 in 1991. As Davis notes, the West Indian decline which began during that period is still continuing. (Charles Davis seems to be the "expert" lazy writers run to when they want an statistical analysis done. Lord Robert has read his book and false assumptions have been noted. It's a shame writers can't be bothered to sit down with some reference material and do their own work. Especially as cricket is one of those games that is a statisticians delight.When time allows we shall be doing book reviews and Professor, herr Doktor Davis' tome will be carefully reviewed- SF)

In retrospect, it seems clear that the reason the West Indian side grew so much older was that there just weren't enough young talented players emerging to replace the veterans.

Is Australia suffering from the same kind of shortage? The first-class averages for the domestic season just ended are not encouraging, for they show the biggest achievers with bat and ball were hardened campaigners rather than fresh young talents.

The top-10 batsmen were all seasoned performers (even the youngest, 25-year-old Simon Katich, had been around for five seasons), and, apart from Nathan Bracken, all the leading bowlers were players of established reputation, too. According to a survey of State coaches, the young batsman who impressed them most was Tasmania's Shane Watson, a Queenslander who hastened his entry into first-class cricket by moving to Tasmania as an 18-year-old halfway through the 1999-2000 season.

Watson, now 19, scored 309 runs last season in eight innings at 51.50, including two half centuries and 105 against South Australia late in the season. But although he was the best of the new bloods, he finished only 11th in the season's first-class averages. (You wnat an 18 year old to average 100? Isn't 50 good enough for you. I'd be pretty pleased myself - SF)

It is obvious from this that the main reason this year's Ashes team contains so few young players is that there aren't any pushing for a place. As NSW coach Steve Rixon commented: "There weren't the younger guys who really grabbed you - the standouts were more the elder statesmen."

Why was this? Is Australia's talent production going through a lean period as part of the normal cycle of history, or is there something wrong with the way the talent is being produced? (Or is their a new cycle ? Certainly the fact that international players no longer play much state cricket will certainly hurt australian cricket because young players are not tested by top class players - if Derriman was trying to make this point he failed - SF)

Nobody is blaming the Cricket Academy at this stage, of course, but Davis does have one reservation about it and the system surrounding it.

"Even a generation ago Australia had bowlers who were instantly identifiable in terms of style - I'm thinking of people like Jeff Thomson and Max Walker - but nowadays they all seem to get trained to bowl the same way," he said. "Cricket has lost an element of its variety and interest because of that. (Codswallop ???!!!! I challenge Mr. Davis, or anybody for that matter to name a single other bowler in any generation who had a similar action to Thomson or Walker!!! Bloody hell this is just the sort of lazy, ignorant stuff that really annoys me. At least he provides us with examples that show he doesn't know what he's talking about. I'm afraid Mr. Davis' cricket knowledge is far inferior to his mathematical knowledge. And writers should challenge tis so called expert a bit more. Unless they are afraid too? Another thing, the Academy keeps an eye on proper training to try to get the best out of a bowler. The last thing we want to see is a bowler who has an injury disrupted career when with the correct knowledge he can extend and maximise his career- SF)

"Over the years Australia depended very much on the 'boys from the bush' - self-taught, dedicated, talented people. It's a pity if all the rough edges, all the things that make players different, were being knocked off by academy-style coaching." (Let's see now, prior to that Academy we had teams captained by the likes of Kim Hughes with very unfortunate results, since then Border, World Cup victory, Ashes victory, Taylor, Sir Frank Worrell Trophy, Waugh, another World Cup victory. So Charles Davis would close down the Cricket Academy and bring in rough edged players such as Ray Bright? (sorry, that was a low blow); Trevor Laughlin; Gary Cosier, Andrew Hilditch, Trevor Hohns - you get the point - SF)

He wonders about the make-up of the Australian team five years from now. Will it be a team of newcomers and, if so, how strong will it be?

According to Davis, we have to go as far back as 1905 to find an Australian Ashes team that was both as old and as lacking in fresh talent as the 2001 team.

There is a worrying precedent here, too. Like the 2001 team, the 1905 team looked good on paper. It lost the Test series 2-0.

Once again ignoring facts like the 1921 and 1948 sides. Mind you the 1948 side's average was skewered by some 40 year old bloke, Don something-or-other. I guess they were lucky to win the Ashes. It's disappointing that Mr. Davis hasn't bothered to work out the age of the current 12 contracted players for England. Guess what? they're over 30 too!!!

Congrats Philip Derriman, you are this weeks Buffoon of the Week,!

SF
--------
Well, after a hiatus of nearly 2 years I'm back (don't worry, I'll fill in the gaps as (if) time allows)) Basically I'm on my first holiday in 2 years (I work for the public service and in this modern age we have to actually work - I remember a time when that was optional. Happy days. Anyway back into it.


I got this from the SA press today, an article by Neil Manthorp. it's rare that I agree 100% with a sports writer (usually the %100 is there but no agreement)


World cricket braces itself for Lloyd resignation Neil Manthorp

The international world of cricket is bracing itself for the humiliating and fractious resignation of one of the greatest men ever to grace the sport, West Indian Clive Lloyd.

The second most capped Test captain of all time and a brilliant leader of men, Lloyd has endured his role as match referee for the past five years rather than enjoy it.

Or at least that is what should be happening because there is only so much embarrassment that a man can take, let alone a man as proud and as sure of himself as the great Guyanan.

How can cricket allow a man with 74 Test captaincies to his credit to be publicly and shamefully over-ruled by a former basketball administrator without a single first-class game of cricket on his entire, beaurocrat-pleasing CV?

Malcolm Speed rose to the top of international cricket's management tree on the back of turning Australian basketball into a marketable and profitable business. The difference between that and cricket is that he he was starting with a product so small and so insignificant, in a single country, it was virtually a clean sheet.

Cricket, however, has a bit of history around the globe. And Clive Lloyd has contributed more to that history, as a player and a personality, than most of the 100,000 or so people with a first class cap. Of which Speed is not one.

Lloyd knew what pressures the South African and Pakistani players were under during the recently concluded five match series in that country. He had spoken to the players of both sides, he knew that Graeme Smith's team were feeling the strain of "machine-gun claustrophobia" and he knew the home side believed they were competing for the survival of the international game in their country.

So when he decided to take no official action against Andrew Hall, Yousuf Youhana and Smith after their flair-up during the 2nd one-dayer in Lahore, it was an educated decision based on the wisdom of Solomon. He was there...he knew.

Malcolm Speed was in London. He made his decision based on the evidence of a video tape. He shamed Clive Lloyd, and shamed all of us who care about the people that matter in cricket. And now Lloyd must fall on his sword to preserve what remains of his pride.

Unless Speed does, which is the much, much more preferable option.
--------------


Speed is someone we'll keep coming back to. he is an evil man (I actually mean that, he is evil - if you followed the recent World Cup you'll know the plight of poor zimbabweans of any colour or the safety of cricketers means nothing. He is soley interested in money - we'll examine his legacy in some depth. One of the really bad human beings of our time)


Of course, let me add that I have not seen the incident at all and am basing my judgement on the fact that Speed has been wrong every other time. I know, I know the law of averages suggests he may get one right eventually but probably not yet. -SF


Notes for October 2003

So David Hookes, the victorian coach is miffed that NSW paceman Nathan Bracken has been called into the australian squad for the 2nd test against Zimbabwe. He feels that victorian bowler mathew Inness deserves to be there instead (he could be right). But in attacking Bracken's selection he claims that the NSW mafia have got another Blue into the australian side. The fact that NSW came first in both competitions last year and Victoria finished 5th in the Pura Cup must have escaped his attention.


Of course if Hooksey was fair dinkum he would have attacked the selectors for picking Brett Lee again. Lee, who is averaging over 40 since the tour to England 2 years ago, continues to bowl rubbish. he either goes for four or chucks a bouncer and yorker. It's an insult to every fast bowler in the country every time he's picked (especially Bichel, whose stats are far superior to Lee's over that period). I'd say Hookes hasn't got the guts to challenge Lee as no one in the press has noticed how bad he is (I wonder if the selectors have noticed).


So until you get some guts Hookes, just shut up.



Cricketwatch.org disclaims all liability for any loss, damage, injury or expense however caused, arising from the use of or reliance upon, in any manner, the information provided through this service and does not warrant the truth, accuracy or completeness of the information provided. So there!

Notes for December 2003

2004

Notes for January 2004